This former fire captain is reigniting his career with a home care franchise
10,000 people turn 65 in North America every day, and more seniors are saying they'd rather age at home. The home care industry is flourishing–it's valued at $93 billion in the US alone–and as Boomers start to hit their 70s, that value will continue to grow at an incredible rate. With medical advances extending the average lifespan, the number of Americans 65+ will more than double by 2060.
Meet Bruce Kirkpatrick, who's entering the market at the perfect time. After 30 years with the Saskatoon Fire Department, this Captain is retiring.
Well, sort of. He now owns and operates a Nurse Next Door franchise with his son-in-law. We spoke to Bruce about his big move, what he loves about his work, and the advice he'd offer to anyone looking to start a second career.
How is home care like firefighting?
On the surface, it might not seem like firefighting and home care have much in common. After all, in our business, we aren't putting out five-alarm blazes. But Bruce has found that while there are many differences, the transition makes sense.
"The home care business is a very different experience, in that it's in a controlled environment," he says, adding that Nurse Next Door often comes in during the calm, following a situation or event (rather than during it). "It's not stressful like a house fire, but it's just as fulfilling as we are still helping people every day."
"I started my career as a firefighter in 1987," says Bruce, remembering the structure fires, motor vehicle accidents and dangerous goods spills. On top of water rescue and high angle rescues, Bruce was also dispatched to medical situations because of his EMT training. "We made a difference in people's lives, helping after house fire tragedies and family emergencies."
Bruce retired from saving lives, and moved on to making lives better.
After 23 years, Bruce was promoted to Lieutenant, then Captain. But after five years of being Captain and leading his crew, he was ready to move on. A relative had launched a home care franchise in Saskatoon and Regina, and built it into a thriving business. When the opportunity came up, Bruce jumped at the chance to invest, and teamed up with his son-in-law Dan.
(Left to right: Bruce Kirkpatrick; Bonnie Kirkpatrick; Danica Bofoya; Dan Bofoya)
"We work well together and have a shared vision that we can grow Saskatoon and Regina into a province-wide operation," says Bruce. "Keeping it as a family business works well for us as we are very close. It keeps us grounded and we enjoy spending time working together, even in the office."
His favorite part of owning a home care  franchise is knowing that "if we work hard, we will see results, and those results are going to bring Happier Aging to people in our community."
Since relaunching the franchise in March 2017, the biggest challenge for Bruce has been understanding the scheduling system–but he's getting the hang of it. "It's amazing to see how well the clients and caregivers are matched together.
"I have really enjoyed getting to know our caregivers and am so impressed as they go above and beyond. They truly have big hearts, and are very compassionate."
Whether it's home care or fire fighting, every day is different.
Between his old and new careers, Bruce sees similarities in the clerical work. Before, he was entering data into the computer system after a fire call. Now, he's doing the same with care plans and caring consults. "There's also continual training required for both jobs," he says. "We were learning new tactics in fire fighting, and now we're learning new ways to adjust to the care provided by the Health Region."
Every day is different, which Bruce finds exciting. "It has been very fulfilling because of the many people we meet every day. Clients are looking for assistance from us to stay in their own home, and we're able to help them achieve this goal."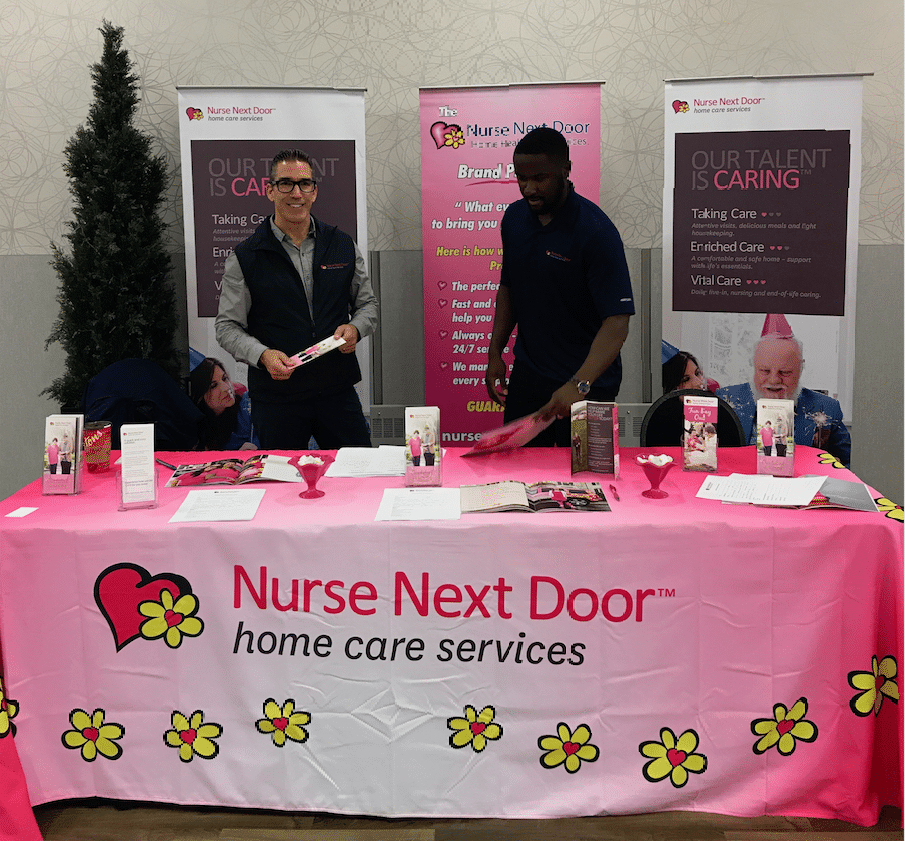 For anyone else looking to start a second career, Bruce has three pieces of advice:
Do your homework before you invest. Be prepared to learn every aspect of your business so you can make wise decisions for the future.
Treat your staff with respect and acknowledge their achievements. Have a vision for short and long term. Think outside the box, and don't be afraid to try something new.
If you are a people person, a home care business is the right choice. If you don't love going to work every day, it's time to move on try something else.
Every Home Care Franchise Partner loves Nurse Next Door for slightly different reasons. Some enjoy giving back to their community, others are excited by newfound financial independence, and for some, it's the bold brand and pink cars.
We're ready to help you start your second career and build your business. To learn more about how we set up new Franchise Partners for success, download our free home care franchise report.