The advantages and 'must-knows' of owning a
home health care business
If you're wondering, "could a  home health care business be right for me", you've come to the right place. 'Get to know Nurse Next Door' is a three-part article series to set you up with information that should make your decision easier. In Part 1, we'll dive into the perks of the industry as a long-term business venture and share some details that may surprise you.
For many franchise candidates, Nurse Next Door is the perfect fit because we're all about helping people. If the idea of making seniors feel more comfortable gives you the 'warm fuzzies', you're in the right place.
But the 'soft' part of owning a  home health care business is just one piece of the puzzle. As a business owner, you might also wonder if you're going to be able to support yourself and your family. Is the effort, capital, and passion you'd like to invest into a franchise going to provide a return, both financially and emotionally?
Here's something you may have not heard about this industry…
It's about to blow up.
We're not saying this just because we think home care is awesome. There are plenty of numbers to back this up, and we hope you're as excited as we are about the opportunities.
The growing senior population in the US
Experts estimate that Americans spend between $211-306 billion annually on long-term care. In 2000, around 15 million Americans used nursing facilities or home care services. By 2050, this number is projected to hit 27 million–almost double what it was just 15 years ago. The number of those 85 and older who use these services is expected to triple.
While these statistics include out-of-home facilities, studies have shown that more people want to stay at home as they age. The US home health care industry is currently valued at $84 billion, and as Boomers age, it's poised to grow exponentially. Fewer Americans are living in nursing homes, and more are choosing home care and assisted living options–just ask the 90% of adults over 50 who'd prefer to stay in their own home as long as possible.
By 2050, almost 21% of the population will be 65+, and most of the growth is going to happen between 2010 and 2030. As those seniors reach 85+, the need for long-term care is likely to increase dramatically.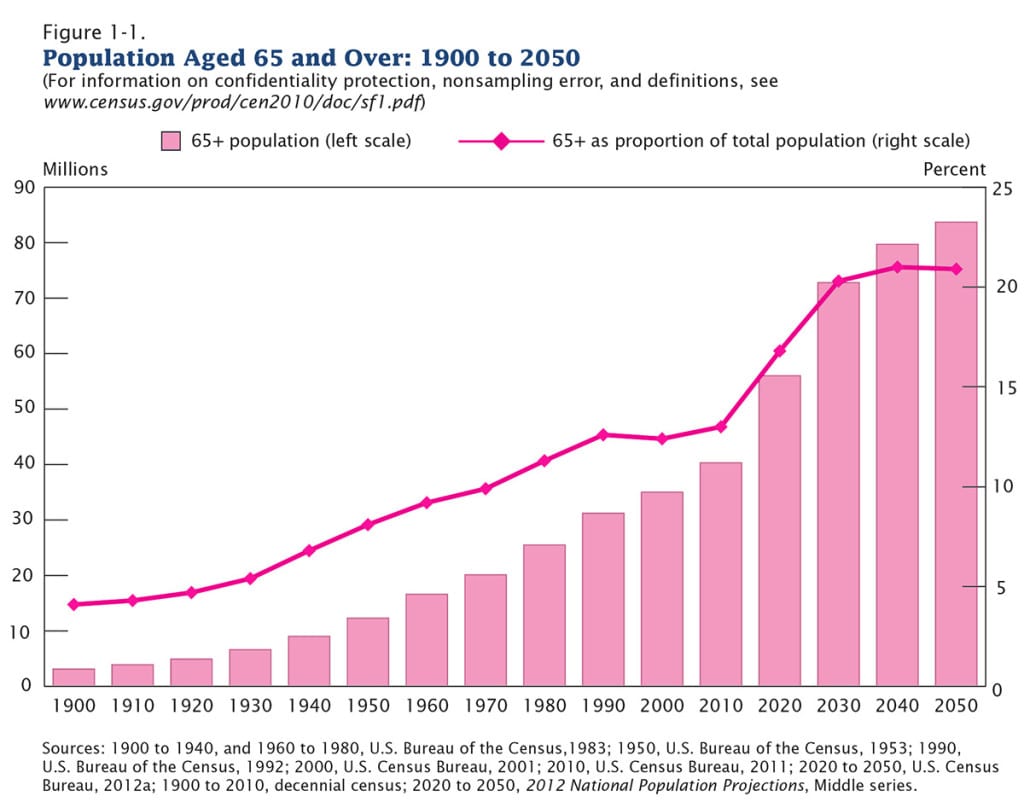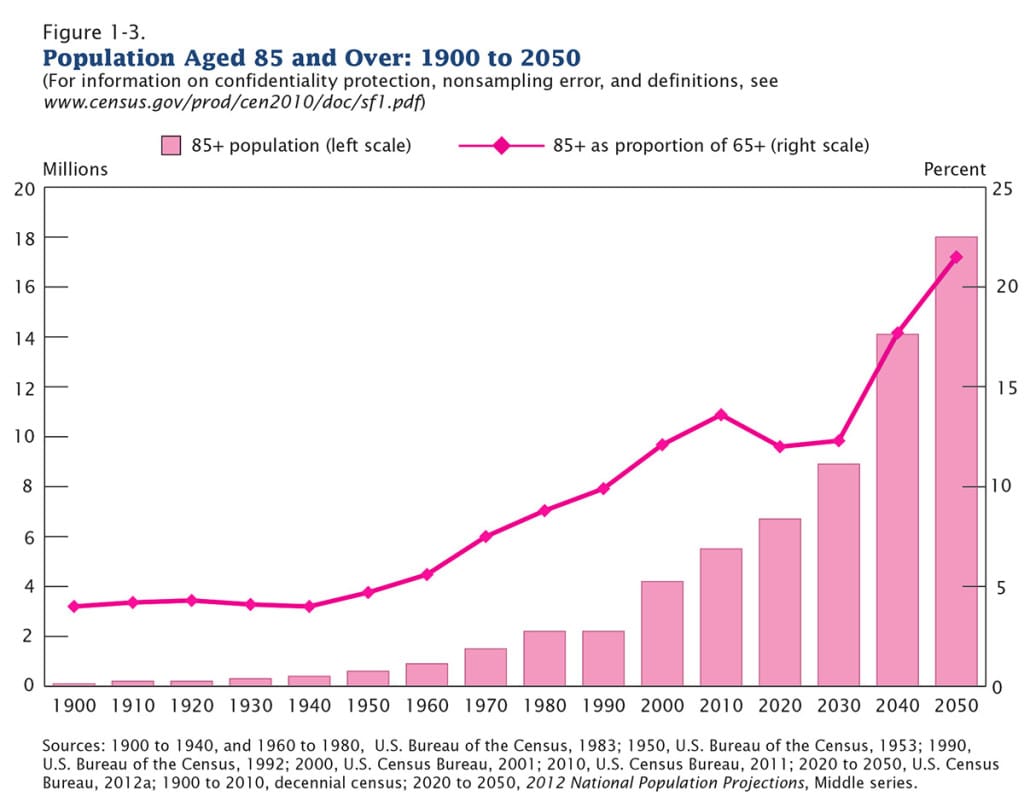 The growing senior population in Canada
As of 2011, Baby Boomers make up the largest generation in Canada. And according to statisticians, for the first time, the country has more people 65+ than children under 14. This 65+ age group consists of 5.8 million people–which is one in six (16%).
By 2063, that group is projected to reach 24-28% of the population, more than doubling to 11-15 million.
Need more numbers? The growth rate of the senior population was 3.5% in 2015–four times the rate of the total population. And Canadian seniors over 80 will peak between 2026 and 2045 as Boomers reach advanced ages. That'll be 10% of the total population!

The home care industry is on the cusp of massive growth
With Boomers soon to hit their 70s and 80s–and many of them preferring to age comfortably at home–you can imagine what this means for the home health care industry. And as a healthier population compared to seniors in the past, Boomers are expected to live longer and reach a more advanced age, which means home care providers will likely have the same clients, longer.
In Part 2 of this article series, you'll read about our three franchise models, and why we decided against the 'one-size-fits-all' approach.
External resources:
https://www.cdc.gov/nchs/data/nsltcp/long_term_care_services_2013.pdf
https://assets.aarp.org/rgcenter/ppi/liv-com/aging-in-place-2011-full.pdf
https://www.census.gov/content/dam/Census/library/publications/2014/demo/p23-212.pdf
https://www.statcan.gc.ca/pub/91-215-x/91-215-x2015000-eng.htm
https://www.statcan.gc.ca/pub/91-520-x/2014001/hi-fs-eng.htm
https://www.statcan.gc.ca/pub/91-520-x/2014001/section02-eng.htm
https://www.statcan.gc.ca/daily-quotidien/150929/dq150929b-eng.htm
https://www.theglobeandmail.com/report-on-business/who-are-the-baby-boomers/article27124275/