Work on
your
terms with one of three unique
home care
business models
If you're wondering "could a home care franchise be right for me", you've come to the right place. 'Get to know Nurse Next Door' is a three-part article series to set you up with information that should make your decision easier. In Part 1, we shared population statistics that are forecasting an imminent boom in the home care industry. In Part 2, we'll explain the three home care business models we offer at Nurse Next Door, define characteristics of the ideal candidate for each, and give you some questions you can use to self-assess.
No one person is exactly alike, so why do so many franchisors offer just one business model? While their concept may be a fantastic fit for you, you may be less aligned with their operating principles. Much like grade school is slowly changing to accommodate different learning styles, Nurse Next Door operates with three different home care business models.
Whether you're thinking about a franchise opportunity with us or are simply browsing the options, you may want to know how we run things around here. We don't believe in the 'one-size-fits-all' approach, and you'll soon see why:
The traditional franchise concept model
With the traditional, lean franchise model, you'll enjoy all the perks that come with owning a small business: hitting the pavement, training employees, and often getting to know clients personally. From consultation to setting up the first meeting with caregivers, to handling concerns and commendations, you'll be immersed from day one.
This model may be best for you if: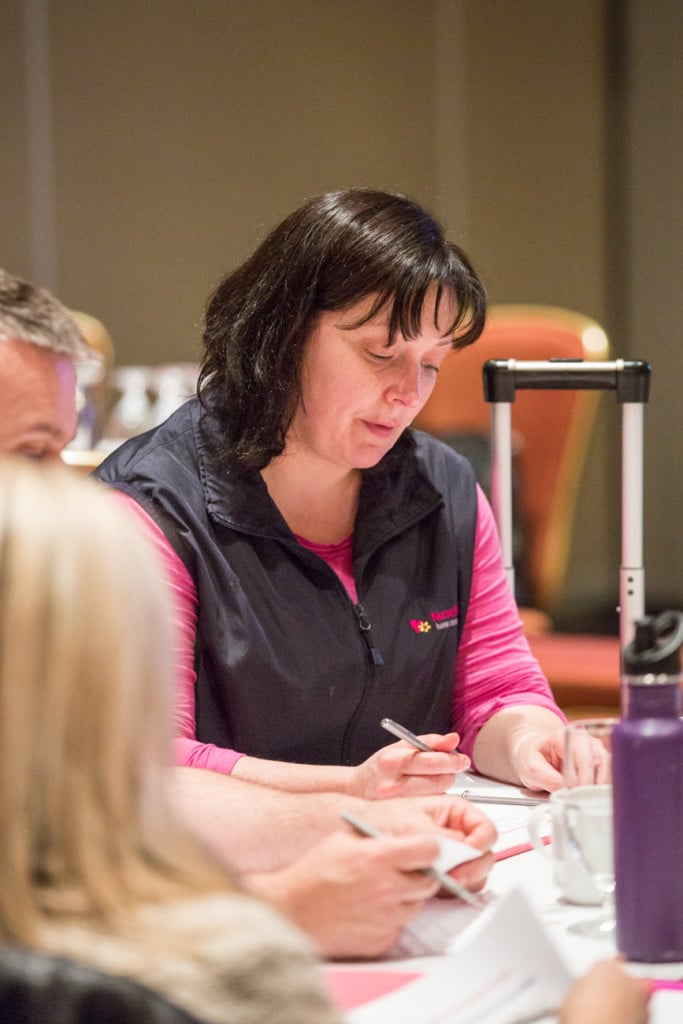 You want to immerse yourself in the business.

A lot of our owner-operators start as Care Designers, which means you get to wear a few hats. Making sales, meeting with potential clients, and talking to referral sources (like doctors) are all regular tasks. Eventually, you may want to hire someone to do this for you. But even as your team grows, it's important to get out in the community and keep up a strong brand presence.
You're open to learning.

A medical background isn't necessary–in fact, some of our most successful Franchise Partners have zero health care experience. Depending on your state or province you may need to have a registered nurse on staff, but you'll always have access to the experienced team at HeartQuarters (head office), who can answer any questions.
You want room to grow.

The more caregivers you hire, the more clients you can help. And when you feel like things are running smoothly, you can consider buying another franchise: more than half of Nurse Next Door's Franchise Partners own multiple units (

read Kim Kendrick's story here

). In fact, many Franchise Partners often start with two to three units.
The sophisticated investor model
For those with more up-front capital, leadership experience and the desire to rapidly build and scale a home care business, we have a sophisticated investor model.
This model may be best for you if:

You have the capital to invest in 5-10+ units at once. If small-time isn't your cup of tea, and you
want to make an impact on even more people, consider the investor model.

You're comfortable hiring a team to help grow the business.

With this model, you won't be as involved in the day-to-day as owner-operators. Instead, you'll focus on reaching more people, while building and scaling a larger business.
You have business experience. While home care experience is an asset, it's not necessary. Alternatively, you'll leverage your business experience to manage a successful team

. You'd prefer to 'work with the end in mind', and you have enough experience that you can grow quickly.
The health system model
Nurse Next Door launched our health system model in order to partner with hospitals, facility groups and home health agencies.
This model may be best for you if:
You're a decision-maker in an existing health system. If you're in charge of a hospital, group of facilities or a home health agency, consider partnering with Nurse Next Door to add a home care extension or re-brand your existing one.
To learn more about our health system model, take a look at this article about how we launched 26 new home care franchises with St. Joseph Health in Southern California!
Perks for all
Home Care
Franchise Partners, regardless of model
Whichever model suits you best, leverage the proven franchise system. One of the biggest perks for potential Franchise Partners is our 24/7 Care Services Center, which we staff with amazingly friendly people to take calls, make bookings, and organize your schedule for you. The best part is, it's accessible to all our Franchise Partners, regardless of the model you prefer.
With stable, reliable resources and three proven home care business models, we know what works. The industry is growing quickly, and now is the perfect time to jump on board and build your legacy.
Join a world class brand where you'll be surrounded by passionate people just like you. Learn more here.
In Part 3 of this article series, you'll find out how much it really costs to buy a Nurse Next Door franchise.
Resources:
https://nursenextdoorfranchise.co.uk/why-kim-kendrid-her-business/
https://nursenextdoorfranchise.co.uk/nurse-next-door-opens-twenty-six-new-franchises